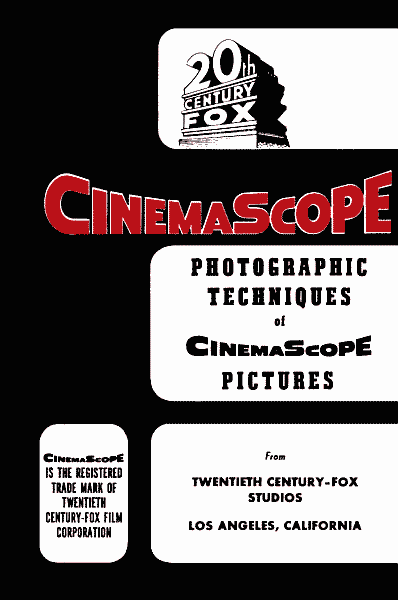 THE TECHNIQUES

OF

CINEMASCOPE PICTURES

by

CHARLES G. CLARKE, A.S.C.
Editor's Note: Mr. Clarke, a Past President of the American Society of Cinematographers, has photographed more CinemaScope pictures than anyone else in the industry - here and abroad. VESUVIUS EXPRESS, CORONATION PARADE, THREE COINS IN THE FOUNTAIN, PRINCE VALIANT and NIGHT PEOPLE represent his overseas work, while BLACK WIDOW, PRINCE OF PLAYERS and VIOLENT SATURDAY were Hollywood productions.

Whenever any new technique is introduced, it is frequently human reaction to view it with a certain amount of reservation and doubt. Probably this is the result of our becoming so accustomed to the previous, and older methods that we approach new concepts hesitatingly. The technique of making CinemaScope motion pictures with stereophonic sound has met, to a limited degree, this reluctance to accept new ideas. I know this from experience, because in the course of filming CinemaScope pictures during the past two years, here and in Europe, I have been asked many questions which indicate to me that the questioner is thinking in terms of applying the older technique to the newer medium. Also, many inquiries resulted from the usual host of misconceptions, misunderstandings and false information which surround new and challenging developments.

In my talks with producers, I gather that many feel that it is more expensive to produce CinemaScope pictures than pictures in the older medium. More than one hundred CinemaScope films have now been made and it has been established that production costs are no greater, and in most