could use Technicolor, but that for one year they could use only the two-color process. Which was a fine deal for Dr. Kalmus because he had on hand thirty two-color cameras which the three-color process had apparently made obsolete. Some of these cameras are now being used by Mr. Disney's competitors and will therefore live an extra year.

BUT

although picture producers admitted that they had been wrong about color in cartoons they were still sure they were right about color in features. At this point, however, Technicolor received unexpected help from two outside sources – Merian Caldwell Cooper and John Hay (Jock) Whitney. One is an expert cinema director, producer, executive; the other is commonly credited with the possession of $100,000,000; both are enthusiastic about the possibilities of the color picture.


Although his former position as production head of' RKO-Radio Pictures makes Mr. Cooper one of' Hollywood's important figures, his career has been very different from that of the usual picture executive. He has been more familiar with bullet holes than with buttonholes, having served in the U. S. aviation forces during the War and having organized the Kosciusko Squadron to fight for Poland in post-War troubles along the Polish-Russian border. He was captured by the Germans after a battle in which Cooper's squadron of seven planes (led by Sidney Howard) was attacked by twenty German ships. He was also shot down in the Russian fighting and might have been executed by the Bolsheviks who did not at all approve of his flying Foreign Legion, except that he was fortunately mistaken for somebody else against whom the Russians had no special grudge. With Europe peaceful, Cooper returned to this country, wrote for the New York Times, heard of an expedition bound for the Dutch East Indies and Abyssinia, joined it. It was on this expedition that he saw his first pictures made and met traveler Ernest Schoedsack, with whom he later teamed up in the making of Grass¾ a picture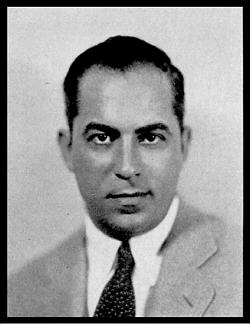 JOSEPH ARTHUR BALL
... who studied at Technology under Dr. Comstock, went with Dr. Kalmus when the ways of Technicolor and Kalmus, Comstock & Wescott parted. Now scientific head of Technicolor, he is the man most responsible for the advance into the present three-component process.
showing the migratory habits of' the Bakhtiari tribe of northeastern Persia.


Grass was only a travel picture, minus plot, sex, and leading roles, but Paramount's Jesse Lasky took a chance with it and registered a considerable sensation plus a small profit. Then Paramount financed Cooper in the production of Chang – the famed elephant picture which is still remembered among the many animal films. At Paramount he met David Selznick, and when Selznick became Radio-Keith-Orpheum's production head, Cooper joined him as his assistant. When Selznick then went to Metro-Goldwyn-Mayer, Cooper offered to go along with him preferring a job with Selznick to being boss at RKO. But Selznick persuaded him to stay with the Radio Corp.'s unhappy child and there he has done an excellent job and also has made a rumored $500,000 a year, what with a percentage of the picture gross added to his salary. Then came a nervous breakdown, a leave of absence, and a contract to make two more RKO pictures.