T E C H N I C O L O R
Color Films Gain Acceptance
---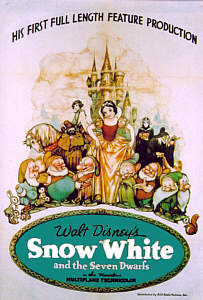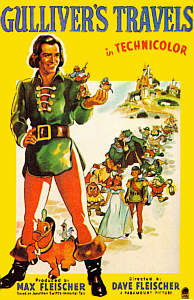 Technicolor ACTUALLY WORKED! The studios took note of the quality output of the company and began to slowly use the system on their big films. The cost was monumental, raising a film budget by nearly 50%, but audiences, for the first time, showed a preference for color movies and the studios profited. Disney, ever on the cutting edge, took simple animation a step further with the invention of the multiplane camera that gave his films a truly three dimensional quality. It was tested first on a short called The Old Mill and followed with the granddaddy of all animated features, Snow White and the Seven Dwarfs.

The Fleischers, over at Paramount, tried, with some success, to create animation that would give Walt a run for his money. Their answer to Disney's multiplane camera was the use of actual 3-dimensional sets, which did create some uncanny effects.

By 1939 it would appear that Henry Fonda had become Mr. Technicolor as his home studio, 20th Century-Fox, used the process on a number of features. Over the years it has become fashionable to denigrate the powerful studio heads of the 20's through the 60's, but many, like Darryl F. Zanuck at Fox, were keen to see movies made as good as they could be. Zanuck pushed for large format in the early 30's, brought CinemaScope and stereophonic sound into neighborhood theatres, and had affairs with a long string of incredibly talentless bimbos. A man for all seasons.
---
Samples of Early Technicolor Production in the 1930s
as seen in the museum's cyber-theatre
---
The Garden of Allah
Frame courtesy of Gerardo Paron
Frame courtesy of Gerardo Paron
A David O. Selznick production from 1936 starring Marlene Dietrich, Charles Boyer, Basil Rathbone, and the always wonderful Joseph Schildkraut. The world is most fortunate that a multi-millionaire by the name of John Hay Whitney invested heavily in two motion picture companies, Selznick International Pictures and Technicolor, Inc. This resulted in a number of exceptionally good films that just happened to be made in Technicolor. The Garden of Allah could almost be considered a test of feature film Technicolor production, and the test was very successful. Seen today, audiences may find the plot a bit slow and improbable but the image looks almost like it was photographed yesterday. The Technicolor has plenty of beauty shots but it is not garish, as so many later films were.
---
The Adventures of Robin Hood
Frame courtesy of Gerardo Paron
The Adventures of Robin Hood, produced by Warner Bros. Pictures, is spectacular, relatively literate, and features the two most beautiful people in 1930s Hollywood, Olivia deHavilland and Errol Flynn. The Technicolor photography by Sol Polito, ASC and Ray Rennahan, ASC remains a high mark to this very day. Warner Bros. have recently put the original negatives through their computerized scanners and produced an absolutely unbelievable new master of this film. Those fortunate enough to have really, really big screen systems can wallow in the lushness found in the 1938 negatives in the feature packed DVD offering. The Adventures of Robin Hood is everything audiences expect a 1930s-1940s Technicolor film to look like.
---
The Wizard of Oz
Frame courtesy of Gerardo Paron
Judy Garland, Ray Bolger, Jack Haley, Frank Morgan and Margaret Hamilton created indelible Technicolor characters in the movie that many erroneously think was the first ever made in color. The Wizard of Oz was among the first all Technicolor films produced by Metro-Goldwyn-Mayer, which got into the full color movie business later than most of the other major studios. Likewise, they adopted sound only after it was apparent that the public wanted it.
---
In Great Britain, Hungarian expatriate Sir Alexander Korda embraced Technicolor in the late 1930s and produced some of the most striking films ever made in the process. Sadly, Rudyard Kipling's Jungle Book is a difficult film for modern viewers to see in its original Technicolor glory. Four Feathers, first made as a silent film by Merian C. Cooper, is available to relish in a splendid transfer that has the vivid red coats of the British army. It features extensive location photography made in the Sudan. Both films are highly entertaining and contain landmark music scores by Miklos Rozsa.


Korda posters courtesy of the Setnik Collection




---


Example of Technicolor dye transfer immortality,
Quo Vadis trailer after more than half a century
Created for Metro-Goldwyn-Mayer by Pacific Title
---
Meanwhile in England, Technicolor-London benefited from the talents of giants like Jack Cardiff, standing in front of the monstrous blimped Technicolor camera and his operator, Geoffrey Unsworth, who would earn substantial recognition on his own.
---
You are on page 10 of the Technicolor History
You may jump to any other page










---
RETURN TO OLD COLOR HOME PAGE
©1999-2003 The American WideScreen Museum
Photographic and printing process illustrations ©1999-2003 AWSM - All Rights Reserved