ANAMORPHOSCOPE LENS UNIT is
slipped into mount on standard
35mm camera. Cinemascope
sets must be flooded with intense
light to compensate for stopped-
down lens opening which brings
all parts of the huge picture area
into sharp focus

Trick lens condenses huge Hollywood sets, then stretches


the picture out again-across gigantic 80-foot screen.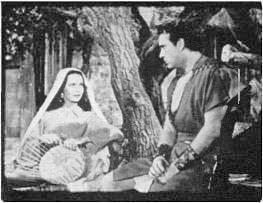 CONVENTIONAL MOTION PICTURE LENS records what it sees without distortion, but its three-units-high by four-units-wide proportions limit the field of vision.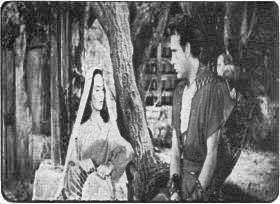 DUPLICATING HUMAN VISION, Cinemascope's anamorphic lens takes in an area one unit high by three units wide, then compacts it on standard-width film.
By Andrew R. Boone



IN A multimillion-dollar bid to woo you and the missis back to the Lyceum, Twentieth Century-Fox is blowing the dust off a 16-year-old camera lens that turns out the 'world's zaniest pictures. Point this oddly shaped glass assembly at Burl Ives strumming a guitar
in the shade of an old oak tree, and he comes out looking like Frank Sinatra tooting an oboe under a grapevine.


And that's only half of it. To its right and left this anamorphic lens has scanned twice as much scenery as a conventional camera lens, and squeezed it all on a single, standard width film.


Run this through a projector equipped