INTRODUCTION

This manual has been prepared for the purpose of acquainting the purchaser of the SUPER PANATAR 35mm projection lens with the unique features which the lens incorporates. In this regard, certain basic principles of the SUPER PANATAR will be discussed so as to provide a clear understanding of the lens for those who work with it. In this way, the fullest advantage can be taken of the SUPER PANATAR ... an anamorphotic lens whose performance is unequaled. It must be clearly understood that the alignment of the projector's optical system with that of the SUPER PANATAR is important. For this reason, provision has been made in the design of the lens for every type of adjustment which will be necessary for proper alignment. Therefore, while care must be employed in mounting the SUPER PANATAR, it will be seen immediately that nothing has been overlooked in making this procedure as simple as possible





WHAT IS PANAVISION?

THE SUPER PANATAR
"Panavision" is a word that has become a part of the motion picture vocabulary.

"Panavision" means: "a superbly engineered optical system for the photographing, printing, and projection of anamorphosed film."



The Panavision effect in projection is created by an auxiliary lens attachment, named the SUPER PANATAR, which is completely compatible with all existing motion picture equipment (conventional or anamorphotic) and it means this to you as a user:



1. Highest definition-sharpest resolution.
2. Ultimate in color rendition-pure white light.
3. Elimination of distortion due to curved screens.
4. Greatest light transmission.
5. Proper "squeeze" with all focal length lenses.
6. Quickly adjustable for any squeeze ratio from 2.66 to 1.0 down.
7. Adaptable to any standard projector.
8. Accommodates all standard projector lenses.
9. All glass surfaces easily cleaned.
10. Can be mounted or dismounted in five seconds.
11. Reasonably priced.
OTHER PRODUCTS OF PANAVISION, INC.



The SUPER PANATAR 35mm projection lens is but one of several items being offered to the motion picture industry by Panavision, Inc. In addition, an anamorphotic "taking" lens with adjustable squeeze ratio is available, as well as "squeeze" and "unsqueeze" optical printing lenses. Of course, all lenses for 35mm use have 16mm counterparts. Further developments will be announced shortly.

-1-



©1954 Panavision, Inc HTML Transcription ©2002 The American WideScreen Museum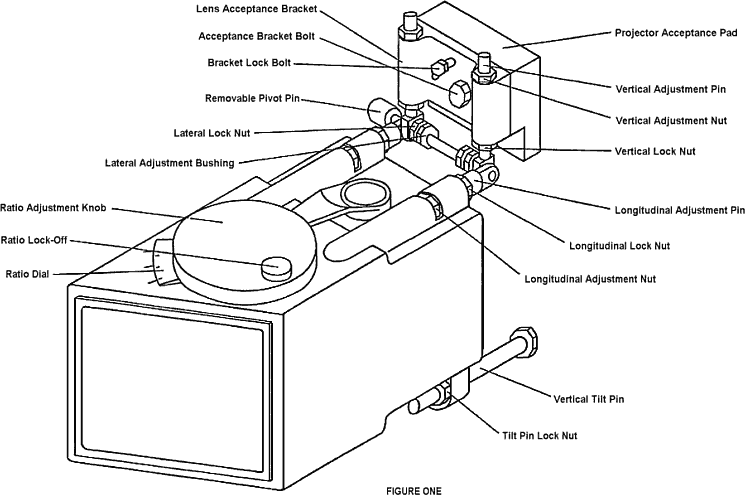 -2-



©1954 Panavision, Inc HTML Transcription ©2003 The American WideScreen Museum