---
The Rich Man's
Poor Man's Version of CinemaScope




Of all the processes that set out to grab some of the CinemaScope thunder in the mid '50's, Superscope was one of the most successful, if only for a brief few years. Mind you, successful in comparison with the wide acceptance of the CinemaScope process and the contracts with 20th Century-Fox, was generally fairly limited, but the Superscope process did see some activity between 1954 and 1960 and then it re-emerged in several variations that continue in use up to this day under the catch-all name of "Super 35".


Poster courtesy of the Setnik Collection

The early history of the Superscope process is a bit unique in that it did not originate at any studio, yet it was quickly adopted and exploited by RKO (Radio Keith Orpheum) studios as the answer to a number of widescreen questions. In addition to RKO, other small studios and independent producers used the process because of its primary benefit: No fees to Fox and normal photographic equipment could be used. In fact a number of films were released in Superscope that had not been planned and photographed with the requisite framing in mind. I strongly suspect that this may be the case with the first film in the process, Vera Cruz a better than average Technicolor Western starring Gary Cooper and Burt Lancaster, directed by Robert Aldrich and produced by Harold Hecht with distribution thru United Artists, released in December, 1954. Vera Cruz is a bit unique in that the the first films produced in most of the major formats were not quite the epitome of the breed. In fact Vera Cruz was probably the best film released in Superscope.

Billionaire industrialist Howard Hughes owned RKO Pictures at the time Superscope was adopted by the studio. Despite his considerable wealth, Hughes' studio chose the least expensive process to get into the wide screen race. Obviously, Hughes personal finances did not translate to the studio's finances.
---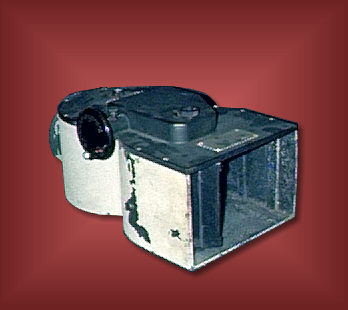 THE "TUSHINSKY" LENS, in the museum's collection. It was built in 1954 and obviously needs a bit of restoration. The glass is in good shape and the mechanical components are fine. Some cleanup and a new coat of gray wrinkle paint should do the job.

The "Tushinsky" lenses, like the "Gottschalk" lenses (AKA Panavision), were designed in 1953-54 during a period when it was expected that studios would release anamorphic films in varying squeeze ratios. Paramount had announced that their upcoming VistaVision system would offer anamorphic prints with a 1.5:1 squeeze ratio. Superscope and Panavision, along with Hi-Lux, and later Gaumont-Kalee, created adjustable lenses that could be set for any squeeze ratio between 2:1 and 1:1.
---
You are on Page 1 of




---
---
©1996 - 2004 The American WideScreen Museum
http://www.widescreenmuseum.com
Martin Hart, Curator