70mm Film Finally Makes The Big Time
TODD-AO photographs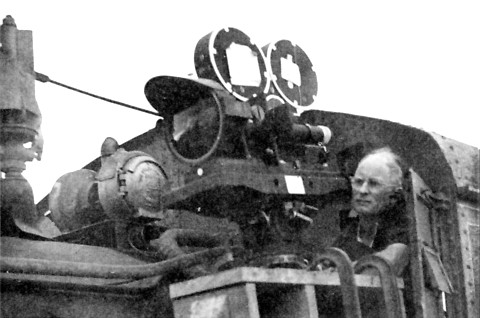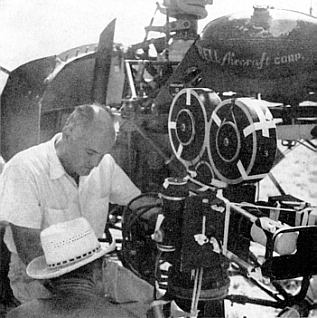 Above Left: Floyd Crosby, ASC directed second unit photography on Oklahoma!. The "bugeye" lens is used to make a moving locomotive shot. "Caution: Objects In Lens Are Closer Than They Appear!" The resulting footage is not in the finished film.

Above Right: A Todd-AO 64 degree lens affixed to a converted Fearless Superfilm camera that is being mounted to a helicopter during the filming of Oklahoma!.
---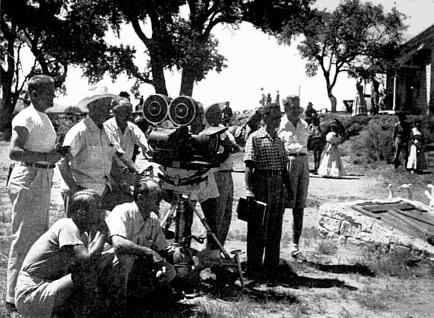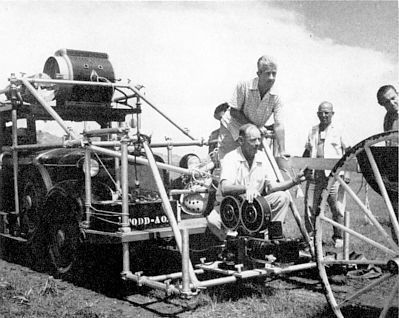 Above Left: Director of photography Robert Surtees, ASC, wearing broad brimmed hat behind camera, and crew shoot a panoramic scene at the farmhouse. This take was not used in the final cut.

Above Right: Second unit director of photography Crosby is seen photographing the shot between the surrey wheels. The 64 degree lens was used in this scene.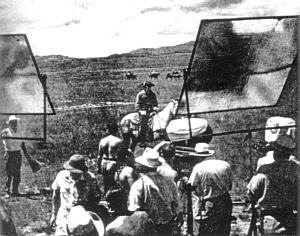 Oklahoma! filming on location near Nogales, Arizona. The original caption to this photo told how this was one of the few occasions where both the Todd-AO and CinemaScope cameras were able to shoot the same scene side by side. If that's the case then there must have been some huge differences between the two versions since Gordon MacRae would appear in Todd-AO and director Fred Zinneman would be in CinemaScope.

Okay, this is more like it. Seen here is director Zinneman and the two-camera rig used when it was possible to shoot simultaneously. Todd-AO camera #1 is seen on the left and the Mitchell BNC with Baltar prime lens and a Bausch & Lomb Type I CinemaScope adapter is on the right. Let's just hope that Zinneman is wearing pants.

Photo from Arizona Highways, courtesy of John Skoda




More production stills from Oklahoma!. We show 'em because we got 'em.

---


65mm print from Oklahoma!.
film courtesy of David Joachim


Just for yucks, a major motivation for the museum's Curator, the color balance in the severely faded Todd-AO film has been adjusted as much as possible to look normal. The cyan dye layer has completely faded into oblivion.



The CinemaScope Prints


Film courtesy of David Riddell




Though the subject has been beaten into the ground, here and everywhere else that people discuss stability of photographic materials, let's go ahead and compare the condition of a Technicolor dye transfer CinemaScope print with the Eastmancolor print by CFI shown above. Yep, Technicolor was a pretty good system. No color correction was done to these photos.

BIG SCREEN TRIVIA: Who was the only actor to appear in the first Todd-AO film and the last Cinerama film?
Answer: Jay C. Flippen. Maybe you can win a bar bet with that one.

---

The original name considered for the process was Magna, later Todd would insist that his name be put on the system and American Optical thought they also should get recognition. Magna Corporation owned Todd-AO Corporation.





After three years of development, Todd-AO premiered with the production of Rodgers & Hammerstein's smash Broadway hit, Oklahoma!. Todd-AO, with its logo shown at a tastefully small size at the opening of the film, delivered everything that audiences had hoped for. In addition to the brilliant image, the six track sound system, while not quite a duplicate of Cinerama's seven track system, reproduced R&H's music with extremely high fidelity, which remains impressive even half a century after its first performance.


---

---

You are on Page 6 of




---

---

©1996 - 2010 The American WideScreen Museum
http://www.widescreenmuseum.com
Martin Hart, Curator