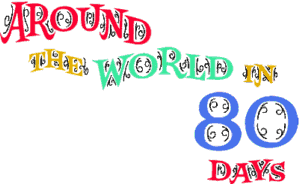 Two 65mm Camera Negatives -
Five Different Prints
Film illustrations created at The American WideScreen Museum. All rights reserved.

---

| | |
| --- | --- |
| | Produced from the primary 30 fps 65mm camera negative. Standard six track magnetic Todd-AO sound. This was the official roadshow print ostensibly used in the first run throughout the U.S. Some evidence indicates that a good many theatres were not running this print, but audiences were not aware. Eastman color print by Technicolor. |

| | |
| --- | --- |
| | The unusual system used in the Astoria Theatre, London, for the roadshow presentation. The print is 34mm wide without any soundtracks, generated from the 24fps negative using the Cinestage 1.567 squeeze ratio. Sound was provided by a six track fullcoat magnetic reproducer. The surround track contained Perspecta control tones to steer effects to the left, right, or rear walls of the theatre. Dye transfer print by Technicolor. |

| | |
| --- | --- |
| The 35mm Cinestage print carrying four channel magnetic sound with Perspecta in the surround. Generated from the 24 fps negative and using an anamorphic compression of 1.567:1, yielding a screen ratio of approximately 2.1:1 with the recommended aperture dimensions. The Cinestage print may have been used in some theatres that advertised a Todd-AO presentation. Dye transfer print by Technicolor. | |

| | |
| --- | --- |
| Following nearly two years of reserved seat roadshow presentation, the film went into general distribution using CinemaScope compatible 2x anamorphic optical reduction prints made from the 24fps negative. The sound was optical mono and was supposed to have Perspecta control tones for theatres so equipped. Testing of 35mm prints labelled as Perspecta show that no tones were ever placed in the soundtrack. Dye transfer print by Technicolor. | |
---

ABOVE: The concept of easy to construct and inexpensive to build geodesic dome theatres took place in the minds of Kaiser Aluminum's Henry J. Kaiser, Pat Weaver, Sigourney's illustrious daddy, and Mike Todd, party giver. Party giver? Oh yes, see below.

Courtesy of Roland Lataille
BUT WAIT... THERE'S MORE

Another publicity photo shows Todd, Kaiser, and Weaver joined by the fourth partner, architect Frank Lloyd Wright along with what appears to be part of Wright's HO gauge train set.
---
"Program" for the infamous Around the World in 80 Days first birthday party. What happened in real life didn't seem to have anything to do with whatever was scheduled. But it's a nice souvenir of one of television's most bizarre evenings.


Cover art courtesy of Robert C. Weisgerber


ABOVE: The Curator remembers seeing the 1st birthday party given by Mike Todd for Around the World in 80 Days on CBS TV and distinctly recalls that it was pure pandemonium. The thing that stuck most in the Curator's mind - chocolate covered grasshoppers!!! For a very good description of this catastrophic soirée, read Mike Todd Jr.'s biography of his father, "A Valuable Property". Junior doesn't pull any punches when writing about his father, nor does he treat him with disrespect.


Photos from Motion Picture Herald provided by Roland Lataille.
---
Around the World in 80 Days
Stills Gallery
Including larger copies of some of the photos in this section.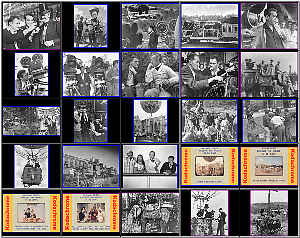 Expanded!
---
You are on Page 9 of
















---
---
©1996 - 2004 The American WideScreen Museum
http://www.widescreenmuseum.com
Martin Hart, Curator